Examples of use
Our Family(Printout):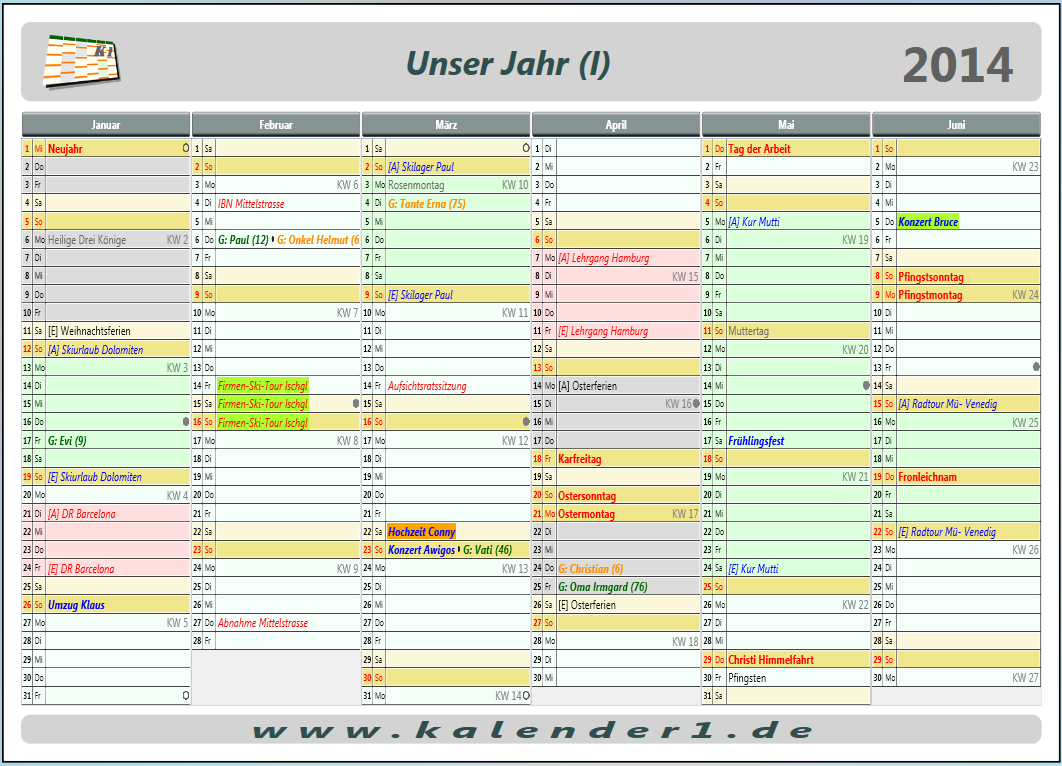 Office (Screenshot):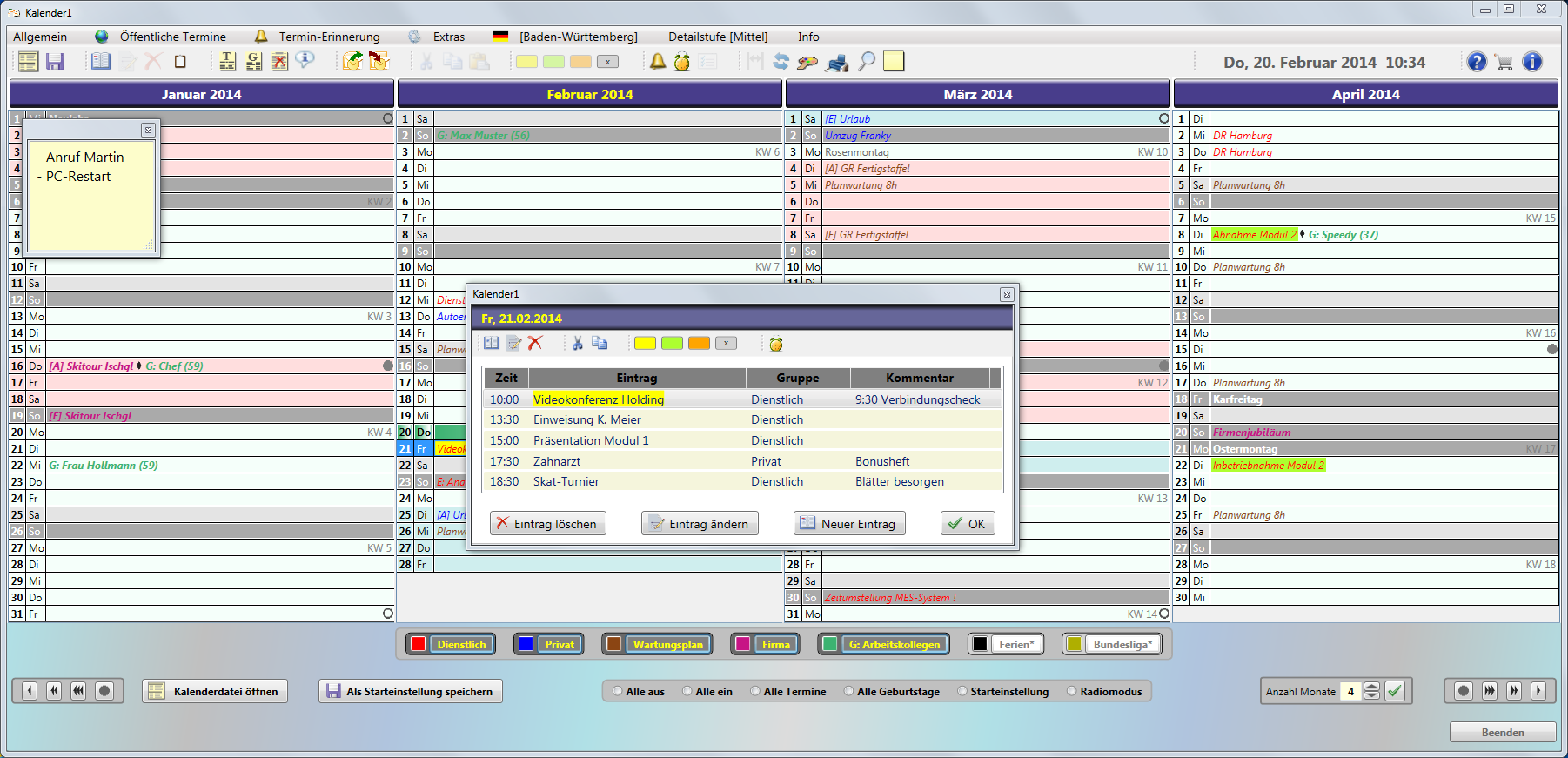 Sports Events of month (Screenshot):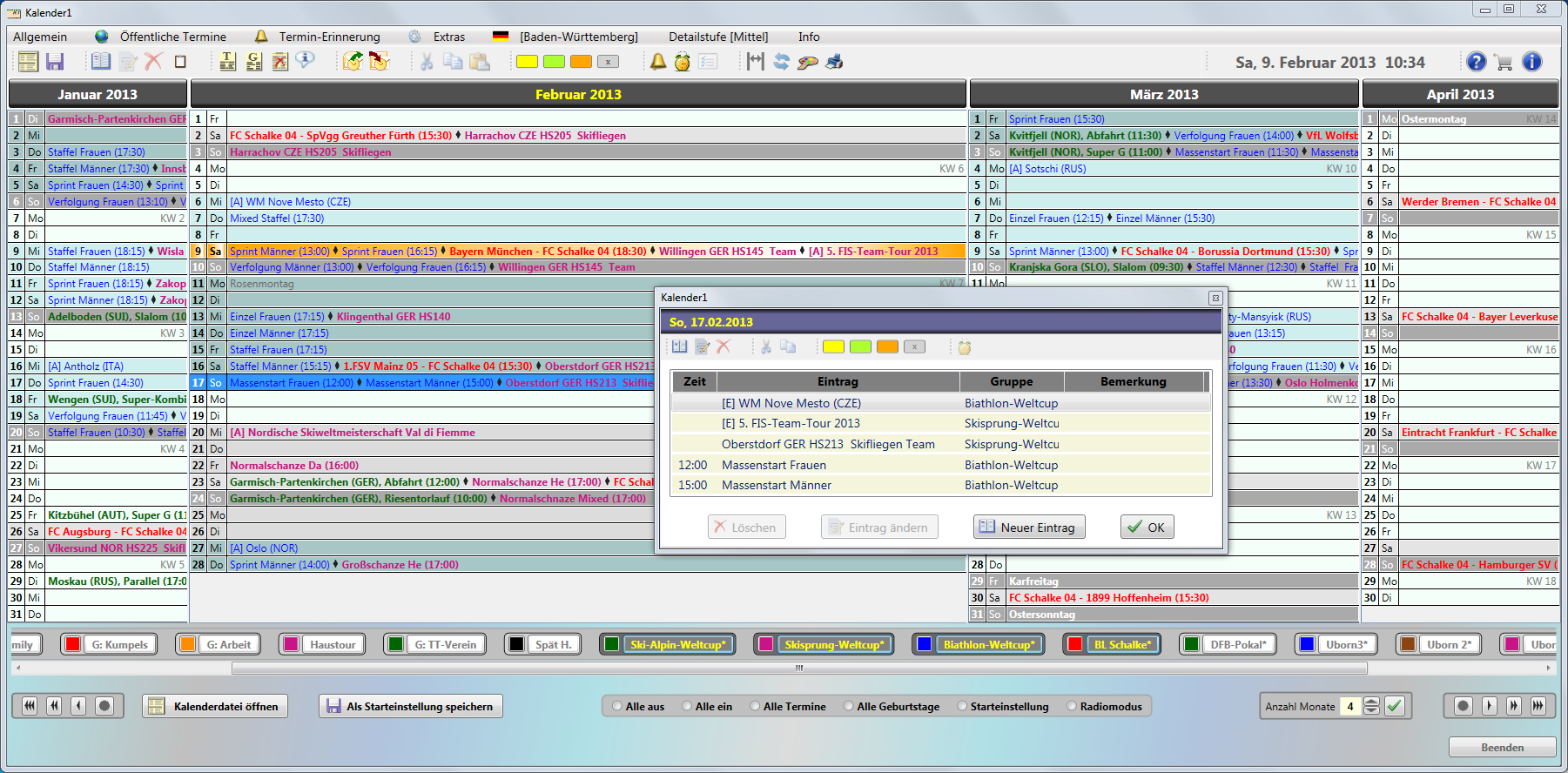 Shift Schedule (Printout):
Tennis Season Schedule (Printout):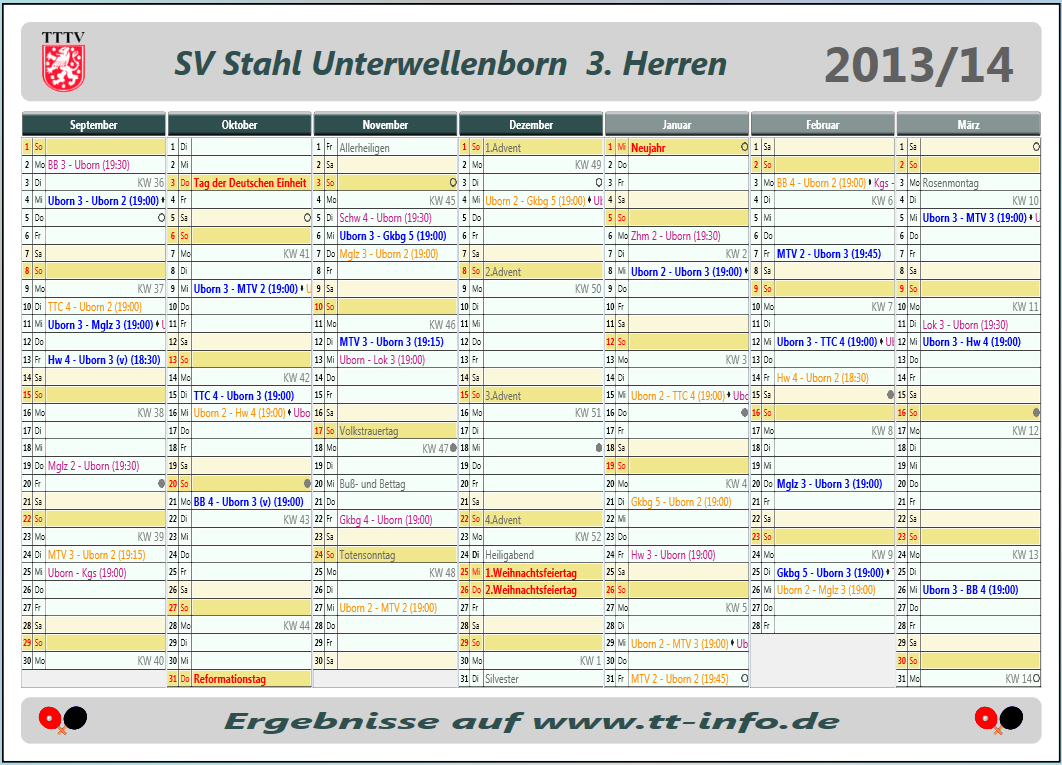 German Bundesliga Schedule (Screenshot):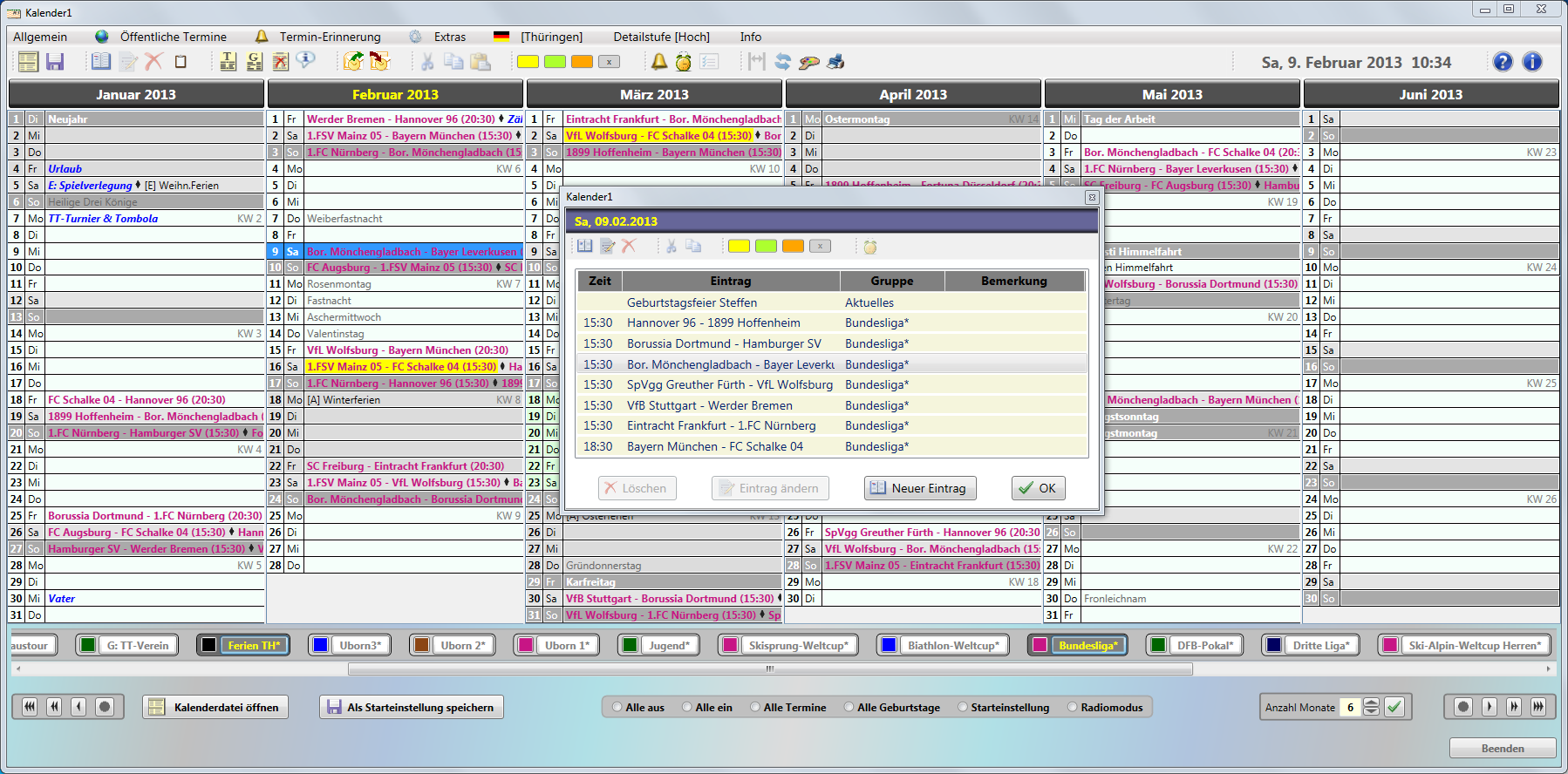 Features of Calendar1
Excellent

clarity and readability

due to classic calendar design, known from thousands of wall calendars
The calendar

language

(i.e. the language for month and day names, for country specific holidays and for some messages) can be selected from a

list

. The operation language is English in any case.
Appointments and birthdays in

colored groups

that can be switched on or off via mouse click - this means high clarity even when there are many entries from completely different areas

Reminding

of events already

at computer startup

as well as during computer session precisely to the second by an

alarm clock

Excellent

printouts

with editable header and footer, illustrated with own icons, also in larger format

Group ability

through exporting entries to a network drive by one user and importing these entries by other users
Color design changeable
Search function for entries and groups and a post-it available
Connectivity to Windows Outlook Calendar
Dates of selectable

sports events

(e.g. Formula 1, UEFA Champions League, several Worldcups) included.

Here you can download Calendar1 for Windows PC/Notebook and test it for 333 days free of cost. What is special about Calendar1, why yet another calendar on your PC or Notebook?

On the one hand, there is the calendar style. It is the same as we know from thousands of wall calendars since our childhood: the months - usually six - in columns next to each other. This means an overview over several months without losing perspective of each single day. Calendar1 more or less brings your wall calendar on to your PC for you !

On the other hand, there is the group philosophy: All entered appointments are allocated to groups, each with its own font colour, which can be switched on or off at mouse click. You can thus view the appointments of one group independently or overlapping with any of the other groups. This also enables Calendar1 to deal with a large number of entries from completely different areas. Thus, for example, birthdays of family members, friends and association members, private and business appointments, the fortnightly bowling nights in a year, the game plan of the local football club's first, second and third team, the annual Formula 1 calendar and much more can be entered in one single calendar. Not a problem, with Calendar1. The display of time periods such as school holidays or your annual leave is also supported through colour shading.

Calendar1 distinguishes itself through a simple, intuitive operation. Double click on the empty calendar line, type in the text, press Enter - and your new appointment is entered. With other programs a form filling the whole screen will open up at this point. Or entering a time period: Drag over several days with the mouse, right mouse button, new entry, type in text - ready. Alternately, appointments can also be entered through simple editing of a text file, which is particularly beneficial when entering entire appointment lists (such as the birthday list of association members, for example). Calendar1 data do not lie hidden in the depths of the computer, accessible only through dialogue boxes that get locked, but are openly accessible in simple text files and can be processed with any common text editor.

Apart from private appointments that are saved locally, there are also so called public appointments, created on the Internet or in a local network. So data of some international sports evenrts like Formula1 and other, stored on Calendar1 webspace, can be included by a menu of Calendar1. Appointments can also be downloaded from any other URL (provided a friendly contemporary makes them available there). So, for example, the webmaster of a sports club could make the game plans of the club available on the club's home page and members can insert it into their Calendar1. The person responsible for repairs on a plant could enter the dates for repair work in the local networks of a company. They could then be viewed all over the company.

Forgetful souls can be reminded of events and birthdays by Calendar1 already at Computer startup, if they want, days in advance. So they will never forget a birthday any more. During computer session an alarm clock can remind of pending apppointments.

You can use a search function to search for names in calendar entries and groups. Date indepndend topics you can enter in a post-it.

You can import and export entries form/into Outlook calendar of Windows.

The colour appearance of the calendar can be adapted to the taste of the user.

Conclusion: Calendar1 can be used universally in both home and office. It is as suitable for the creation of yearly or half-yearly schedules as it is for daily time management. Check it out.

Calendar1-Free
Calendar1-Free is the FREEWARE-Version of Calender1. Thow still a usefull app, there are some restrictions compared to the full version like:
No printing
No entry highlighting
No alarm clock
No group export (to network device)
Number of groups is limited to five